Lot 71291 –
India 1868 (Sep 21) officers cover from Neemuch to Isle of Wight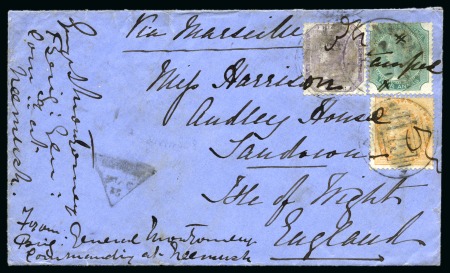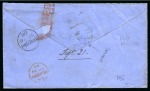 Lot 71291 –
India 1868 (Sep 21) officers cover from Neemuch to Isle of Wight
India » 1855-1946 De La Rue and later Crown Colony Issues
Date de vente
ven. 18 juin 2021 at 15:00 (Europe/Zurich)
1868 (Sep 21) officers cover from Neemuch to Isle of Wight endorsed « Via Marseilles » self-certified by the sender Brig. Genl Montgomery, commanding at Neemuch franked at 6a8p concessionary rate (reduced from normal 8a8p in force 1/4/68 to 31/12/69) bearing 1865 8p. purple, 2a yellow and 1866-78 4a green (Die I), tied by « Neemuch/145 » type 9 duplex. the stamps partly over written by the address, though still a neat and attractive three colour franking. Scarce usage.
Please note that we are still working on adding images for the lots. If the lot you are interested in does not have images available yet, we invite you to check again in a few days.
If you still cannot find the images you are looking for in a few days, please send us a message. Important: don't forget to mention the lot number(s).
Thank you for your understanding.