Lot 60729 –
Rayon II 10 Rp Paar nur links oben minimal berührt sonst breitrandig und tadellos, gestempelt "SPLUGEN 18.7.1854"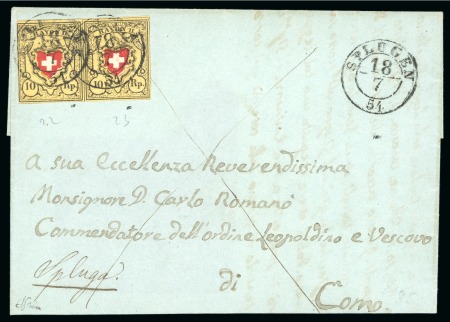 Lot 60729 –
Rayon II 10 Rp Paar nur links oben minimal berührt sonst breitrandig und tadellos, gestempelt "SPLUGEN 18.7.1854"
Switzerland / Schweiz
Date de vente
jeu. 17 juin 2021 at 09:00 (Europe/Zurich)
Rayon II 10 Rp Paar nur links oben minimal berührt sonst breitrandig und tadellos, gestempelt "SPLUGEN 18.7.1854" (Kanton Graubünden) auf Faltbrief (es fehlt nur die rückseitige untere Klappe) nach COMO, LOMBARDEI-VENETIEN. Rs Transit Einzeiler "ST BERNHARDIN". Lt der Gerhard Blaickner Forschung sind NUR 8 BRIEFE MIT DIESER FRANKATUR IN DIE LOMBARDEI BEKANNT, hier ist der einzige aus Splügen (GR).
1854 Large part wrapper from Splügen, Graubünden, to Como, Lombardy Venetia, with 1850 10rp pair, just about touched at top left otherwise good margins, tied by Splugen double circle ds with further strike adjacent, reverse with St. Bernhardin sl/l transit, missing left side backflap, very fine and rare with only 8 covers recorded with this franking to Lombardy and this the only from Splügen according to Gerhard Blaickner, signed J-F Brun.
Please note that we are still working on adding images for the lots. If the lot you are interested in does not have images available yet, we invite you to check again in a few days.
If you still cannot find the images you are looking for in a few days, please send us a message. Important: don't forget to mention the lot number(s).
Thank you for your understanding.