Lot 60727 –
1851 Rayon I 5 Rp Stein C1 type 12, tadellos und voll-bis-breitrandig, entwertet durch sauberen Abschlag der blauen Raute auf Faltbrief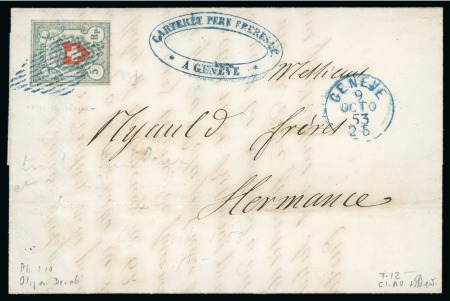 Lot 60727 –
1851 Rayon I 5 Rp Stein C1 type 12, tadellos und voll-bis-breitrandig, entwertet durch sauberen Abschlag der blauen Raute auf Faltbrief
Switzerland / Schweiz
Date de vente
jeu. 17 juin 2021 at 09:00 (Europe/Zurich)
1851 Rayon I 5 Rp Stein C1 type 12, tadellos und voll-bis-breitrandig, entwertet durch sauberen Abschlag der blauen Raute auf Faltbrief von GENEVE (9.10.1853) nach Hernance. Fotoattest von der Weid (1996). SBK 17 II
1851 Rayon I 5rp without cross border, stone C1 type 12, fine to large margins, tied to 1853 (Oct 9) lettersheet from Geneva to Hermance tied by clear blue barred diamond with despatch cds adjacent, fine, cert. von der Weid (1996).
Please note that we are still working on adding images for the lots. If the lot you are interested in does not have images available yet, we invite you to check again in a few days.
If you still cannot find the images you are looking for in a few days, please send us a message. Important: don't forget to mention the lot number(s).
Thank you for your understanding.