Lot 60721 –
1809 Folded entire to Boo'hon, showing manuscript four symbols of Swedish Crown and complete dark feather attached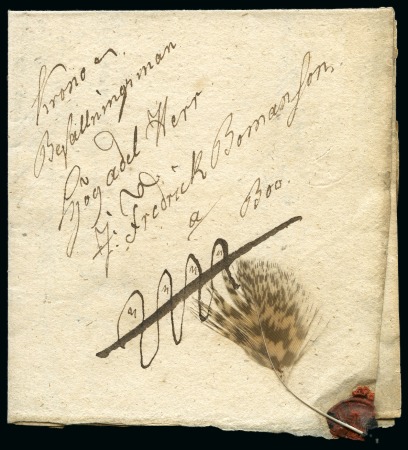 Lot 60721 –
1809 Folded entire to Boo'hon, showing manuscript four symbols of Swedish Crown and complete dark feather attached
Sweden
Date de vente
jeu. 17 juin 2021 at 09:00 (Europe/Zurich)
1809 Folded entire to Boo'hon, showing manuscript four symbols of Swedish Crown and complete dark feather attached with wax seal to state a medium urgency, attractive and rare.
Please note that we are still working on adding images for the lots. If the lot you are interested in does not have images available yet, we invite you to check again in a few days.
If you still cannot find the images you are looking for in a few days, please send us a message. Important: don't forget to mention the lot number(s).
Thank you for your understanding.