Lot 60694 –
Local Issues – Tallin (Reval). 1919 a very rare usage of the provisional « Eesti Post » overprint on registered cover from Haapsalu to Tallin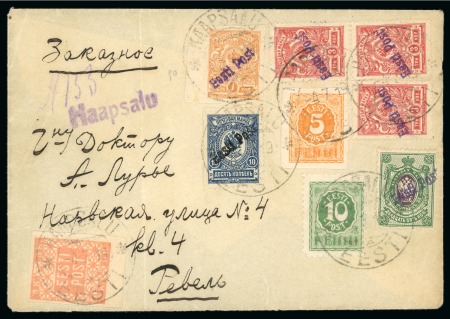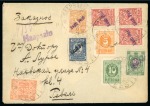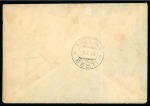 Lot 60694 –
Local Issues – Tallin (Reval). 1919 a very rare usage of the provisional « Eesti Post » overprint on registered cover from Haapsalu to Tallin
Estonia
Date de vente
jeu. 17 juin 2021 at 09:00 (Europe/Zurich)
Local Issues – Tallin (Reval). 1919 (July 4) Registered cover from Haapsalu to Tallin, bearing local perf. overprinted 3k (3), 10k (black overprint) and 25k, and imperf. 1k, additionally franked with Estonia 1918 5k and 1919 10p, all tied by cds's on departure with provisional « Haapsalu » straight line in violet with registration number above, and arrival on reverse, a very rare usage of the provisional « Eesti Post » overprint.
Please note that we are still working on adding images for the lots. If the lot you are interested in does not have images available yet, we invite you to check again in a few days.
If you still cannot find the images you are looking for in a few days, please send us a message. Important: don't forget to mention the lot number(s).
Thank you for your understanding.