Lot 10365 –
1854, Lithographed by Henri Gillet, 5 c. pale red-brown, two examples on external mail
Lot 10365 –
1854, Lithographed by Henri Gillet, 5 c. pale red-brown, two examples on external mail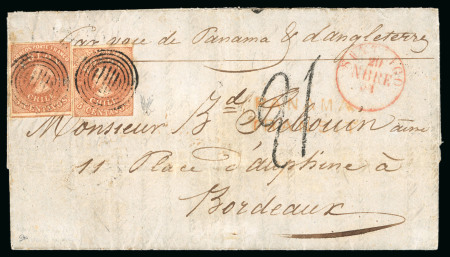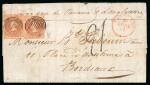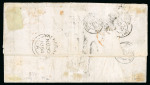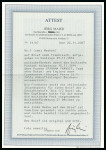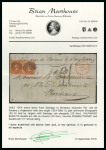 Lot 10365 –
1854, Lithographed by Henri Gillet, 5 c. pale red-brown, two examples on external mail
Chile » General issues
Estimation
8'000 – 14'000 EUR
Date de vente
jeu. 1 juin 2023 at 16:30 (Europe/Zurich)
THE LARGEST LITHOGRAPHED GILLET 5C FRANKING ON FOREIGN MAIL
1854, Lithographed by Henri Gillet, 5 c. pale red-brown, two examples, the one at right cut slightly into on one side, otherwise well margined, the example at left showing good to huge margins with portion of adjoining stamp at base, both used on 1854 double weight entire letter to Bordeaux, endorsed « par voie de Panama & d'Angleterre », each tied by target handstamps in black with red dispatch cds at right on November 29. Reverse with British P.O. double-arc ds of Valparaiso struck in transit, and obverse showing two-line « Panama/Transit » hs in red and « 21 » décimes due on arrival, backstamped in London, Paris and Bordeaux (Jan. 26, 1855). We only record three genuine covers sent abroad exhibiting the Gillet lithographed issue (all sent to Bordeaux), this being unique with two stamps and representing the largest franking of this stamp on external mail; considering the scarcity of this stamp on cover, this is a true gem of Chilean postal history. We want to make note that the single franking from the « Islander » collection (Siegel auctions N.Y, June 2008, lot 132) was sold for US$8,000 -« (Islander) has seen just one other cover to Europe with the Lithograph issue »-. Certs. Maier (2007) and Moorhouse (2010).
Provenance: Joaquín Gálvez (1979, lot 3356, sold for CHF5,000) and Ulf Siebel.
Please note that we are still working on adding images for the lots. If the lot you are interested in does not have images available yet, we invite you to check again in a few days.
If you still cannot find the images you are looking for in a few days, please send us a message. Important: don't forget to mention the lot number(s).
Thank you for your understanding.