Lot 10189 –
1843, 60r black, early impression, on letter from S. Joao del Rei to Rio de Janeiro
Lot 10189 –
1843, 60r black, early impression, on letter from S. Joao del Rei to Rio de Janeiro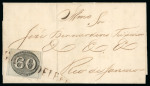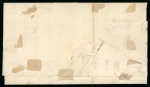 Lot 10189 –
1843, 60r black, early impression, on letter from S. Joao del Rei to Rio de Janeiro
Brazil » 1843 Bull's Eyes
Estimation
2'500 – 3'000 EUR
Date de vente
jeu. 1 juin 2023 at 14:00 (Europe/Zurich)
1843, 60r black, early impression, good to mainly wide margins, used on front of 30 April 1844 single weight entire letter from S. João del Rei to Rio de Janeiro, tied by « S.JOAO DELREI » straight-line hs (Ayres 1170); vertical filing fold clear away from the franking. A desirable usage of a « Bull's Eye » applied on front of the letter; listed in the Bernd Juchert census and apparently never offered at auction.
Please note that we are still working on adding images for the lots. If the lot you are interested in does not have images available yet, we invite you to check again in a few days.
If you still cannot find the images you are looking for in a few days, please send us a message. Important: don't forget to mention the lot number(s).
Thank you for your understanding.