Lot 30085 –
1872, 1 sen blue plate1 on brittle laid paper, complete sheet of 40, unused
Lot 30085 –
1872, 1 sen blue plate1 on brittle laid paper, complete sheet of 40, unused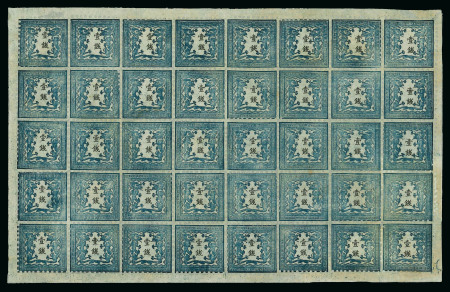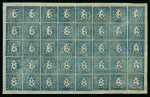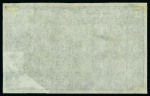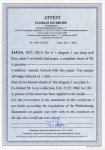 Lot 30085 –
1872, 1 sen blue plate1 on brittle laid paper, complete sheet of 40, unused
Japan » 1872, Dragons sen unit, perforated
Estimation
40'000 – 60'000 EUR
Date de vente
sam. 3 juin 2023 at 09:30 (Europe/Zurich)
THE ONLY 1 SEN PLATE 1 FULL SHEET IN PRIVATE HANDS
1872, 1 sen deep dull blue, plate 1, brittle laid paper, the astonishing complete sheet of 40, comprising the constant plate varieties in positions 3, 5, 7 and 8. Unused without gum and backed with thin paper for a better preservation, in position 24 featuring a misplaced and double perforation at right, framed by the surrounding large external margin which is only broken in a small place in position 8. Uneven inking of the plate but quite detailed impression with a bright colour enabling the positions in the plate to be easily identified. Cert. Florian Eichhorn BPP (2023).
A rarity of the highest degree, as this is the only 1 sen plate 1 complete sheet recorded in private hands and, in addition, the most valuable sheet in the early classic issues and consequently, a great gem of Japanese philately. (JSCA ¥12,000,000).
Note: The other complete sheet is part of the Kanai Hiroyuki collection (The Philatelic Culture Museum), previously owned by F. J. Peplow.
Provenance: Robert Levy (Robson Lowe, 20.2.1962, lot 130 « very fresh condition »)
Please note that we are still working on adding images for the lots. If the lot you are interested in does not have images available yet, we invite you to check again in a few days.
If you still cannot find the images you are looking for in a few days, please send us a message. Important: don't forget to mention the lot number(s).
Thank you for your understanding.