Lot 30050 –
1871, 500 mon bluish green vertical pair
Lot 30050 –
1871, 500 mon bluish green vertical pair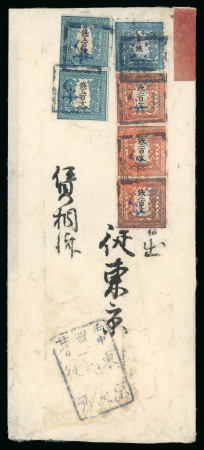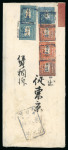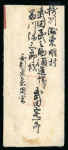 Lot 30050 –
1871, 500 mon bluish green vertical pair
Japan » 1871, Dragons mon unit, imperforate
Estimation
10'000 – 20'000 EUR
Date de vente
sam. 3 juin 2023 at 09:30 (Europe/Zurich)
A UNIQUE MIXED-ISSUES FRANKING WITH THE RARE 200 MON PLATE 2
1871, 200 mon vermillion, plate 2, vertical strip of three with magnificent margins, positions 8 / 16 / 24, positional pin hole at top right, together with 500 mon bluish green, plate 1, vertical pair, positions 1/9 (featuring « extra dot in second value character » variety in position 9), barely touching on two sides and varying to huge margins, in conjunction with 1872, Dragon 1 sen, plate 2, position 28, each cancelled by boxed « Ken » (for examined) chops of Tokyo with framed blue « (year of) Water Monkey 4th Moon 28th Day / Tokyo P.O. » datestamp (« Tokyo Yubin Yakusho », Tokyo Post Office) alongside, to reverse of cover to Kobe. Addressee's side displaying framed arrival datestamp: « (year of) Water Monkey 5th Moon 2nd Day / Sesshu Kobe P. O. » (Sesshu = Settsu province).
Covers bearing the 200 mon plate 2 are exceedingly scarce, particularly in mixed franking with the 500 mon. An exceptional and splendid imperforate-perforated combination franking.
Provenance:
Robert Levy (Robson Lowe, 18.11.1964, lot 111)
Lois M. Evans-de Violini (Dynasty Auctions, 6.8.2011, lot 1533)
Please note that we are still working on adding images for the lots. If the lot you are interested in does not have images available yet, we invite you to check again in a few days.
If you still cannot find the images you are looking for in a few days, please send us a message. Important: don't forget to mention the lot number(s).
Thank you for your understanding.