Lot 20128 –
5pi Brown, two blocks of six (with defects), neatly
Lot 20128 –
5pi Brown, two blocks of six (with defects), neatly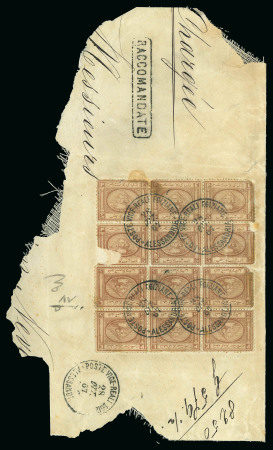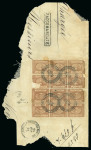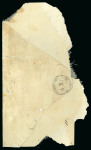 Lot 20128 –
5pi Brown, two blocks of six (with defects), neatly
Egypt » 1867-69 Penasson » Issued Stamps
Estimation
6'000 – 7'000 EUR
Date de vente
ven. 2 juin 2023 at 15:00 (Europe/Zurich)
5pi Brown, two blocks of six (with defects), neatly cancelled on 1867 large part registered cover from Alessandria to Cairo, by POSTE VICE-REALI EGIZIANE / ALESSANDRIA / 28.OTT.67 cds with similar and framed RACCOMANDATE alongside, plus manuscript « Chargée », arrival bs, an outstanding 60pi rate paying 58pi and 2pi registration.
Without a doubt one of the most important Second Issue items and a major Egyptian rarity.
Provenance: Sherif Samra.
Please note that we are still working on adding images for the lots. If the lot you are interested in does not have images available yet, we invite you to check again in a few days.
If you still cannot find the images you are looking for in a few days, please send us a message. Important: don't forget to mention the lot number(s).
Thank you for your understanding.