Lot 20032 –
20pa blue, three horizontal pairs used on 1867 registered
Lot 20032 –
20pa blue, three horizontal pairs used on 1867 registered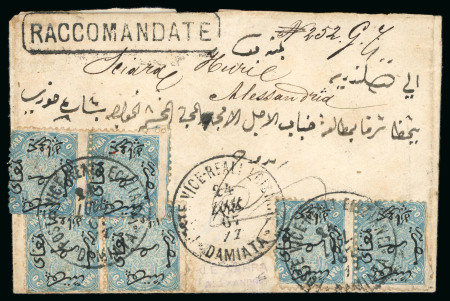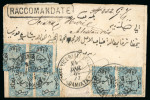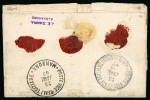 Lot 20032 –
20pa blue, three horizontal pairs used on 1867 registered
Egypt » 1866 First Issue » Issued Stamps
Estimation
5'000 – 6'000 EUR
Date de vente
ven. 2 juin 2023 at 15:00 (Europe/Zurich)
20pa Blue, three horizontal pairs used on 1867 registered entire letter from Damiata to Alexandria, all tied by POSTE VICE-REALI EGIZIANE / DAMIATA datestamps (July 24) in black, framed RACCOMANDATE handstamp at top and reverse with Mansura transit cds (July 25) and Alexandria arrival cds of the same day, the adhesives with minor imperfections as usual, but a magnificent and rare cover, the use of the 20 paras due to the shortage of the 1 piastre adhesive in the last week of sale.
Rate: Single rate postage 1 pi. + 2 piastres for registration.
Note: Illustrated in Smith on colour plate 2.
Provenance: Peter Smith
Please note that we are still working on adding images for the lots. If the lot you are interested in does not have images available yet, we invite you to check again in a few days.
If you still cannot find the images you are looking for in a few days, please send us a message. Important: don't forget to mention the lot number(s).
Thank you for your understanding.