Lot 1095 –
1840 2d Blue pl.1 QD and pl.1 RE on large wrapper tied by neat red Maltese Crosses with RE also tied by Dorchester cds, underpaid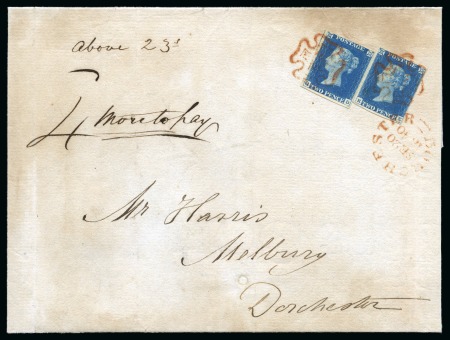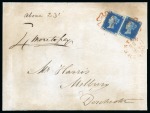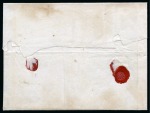 Lot 1095 –
1840 2d Blue pl.1 QD and pl.1 RE on large wrapper tied by neat red Maltese Crosses with RE also tied by Dorchester cds, underpaid
Great Britain » 1840 2d Blue (ordered by plate number)
Estimation
950 – 1'100 GBP
Date de vente
mar. 21 sept. 2021 at 11:00 (Europe/Zurich)
1840 2d Blue pl.1 QD (3 margins) and pl.1 RE (4 margins), on large wrapper to Dorchester tied by neat red Maltese Crosses with RE also tied by Dorchester cds, underpaid with ms « above 2 zs / 4d More to pay », discolouration to cover, portion missing but refolded to display nicely, an attractive and scarce underpaid franking, ex « Wellington ».
Please note that we are still working on adding images for the lots. If the lot you are interested in does not have images available yet, we invite you to check again in a few days.
If you still cannot find the images you are looking for in a few days, please send us a message. Important: don't forget to mention the lot number(s).
Thank you for your understanding.