Lot 1059 –
1840 1d Black pl.5 PD tied to 1841 (Mar 27) entire by crisp black distinctive Manchester « fish-tail » Maltese Cross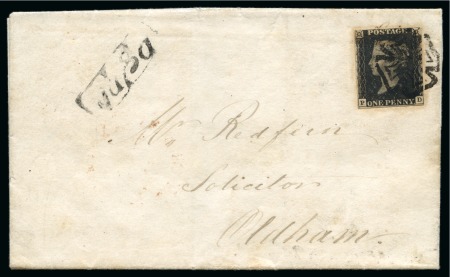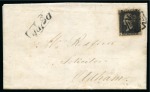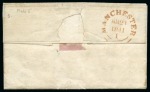 Lot 1059 –
1840 1d Black pl.5 PD tied to 1841 (Mar 27) entire by crisp black distinctive Manchester « fish-tail » Maltese Cross
Great Britain » 1840 1d Black and 1d Red plates 1a to 11
Date de vente
mar. 21 sept. 2021 at 11:00 (Europe/Zurich)
1840 1d Black pl.5 PD, very close to fine margins, tied to 1841 (Mar 27) entire sent from Delph to Oldham (Lancashire) by crisp black distinctive Manchester « fish-tail » Maltese Cross, with « Delph / P P » hs adjacent, Manchester bs, scarce so fine (SG Spec. £2'500).
Please note that we are still working on adding images for the lots. If the lot you are interested in does not have images available yet, we invite you to check again in a few days.
If you still cannot find the images you are looking for in a few days, please send us a message. Important: don't forget to mention the lot number(s).
Thank you for your understanding.