Lot 51193 –
1873 (Jan) 1d. deep green, watermark small star sideways, clean-cut perf.15, bisected diagonally on piece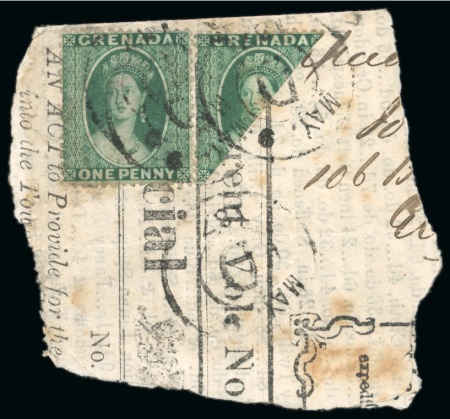 Estimation
800 – 1'200 GBP
Date de vente
Thu 16 Dec 2021 at 13:00 (Europe/Zurich)
Description:
1873 (Jan) 1d. deep green, watermark small star sideways, clean-cut perf.15, bisected diagonally and twice cancelled with « D » double-ring datestamp for 9 May 1877 and tied on piece of St. Georges Chronicle and Grenada Gazette newspaper, with a normal example adjacent and further strike of the datestamp below, a very rare franking which paid the rate for newspapers to the UK,
ex Danforth Walker and Hackmey
, cert. RPS (2003) (S.G. £9'000 on cover).
Référence catalogue:
SG S.G. 10a