Lot 51191 –
1785 (Mar 19) Entire letter to Glasgow rated 1/2 and 1/- showing on reverse fine Grenada second type handstamp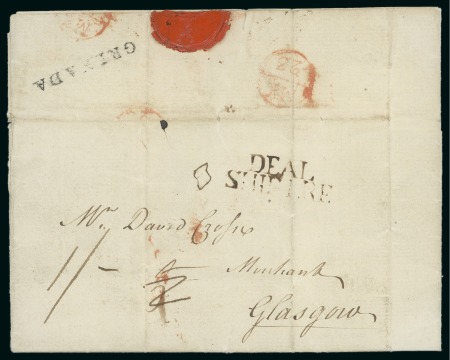 Estimation
3'400 – 4'000 GBP
Date de vente
Thu 16 Dec 2021 at 13:00 (Europe/Zurich)
Description:
1785 (Mar 19) Entire letter to Glasgow rated 1/2 and 1/- showing on reverse fine Grenada second type handstamp London and two Scottish red Bishop marks and a fine red wax seal, the face panel with
« DEAL / SHIP LRE »
handstamp (crossed by filing crease) the letter includes a Bill of Lading for sugar and makes reference to Negroes being inoculated and recovered from smallpox. A very important and exceptionally rare letter being the sole example of the straight-line handstamp,
ex Danforth Walker and Hackmey
, cert. RPS (2003).