Lot 50163 –
1870 1 1/2d Rose-Red pl.3 imperforate imprimatur lettered AA
Lot 50163 –
1870 1 1/2d Rose-Red pl.3 imperforate imprimatur lettered AA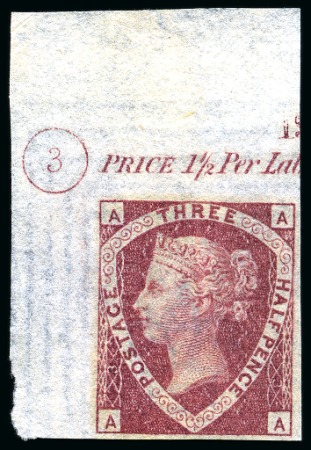 Lot 50163 –
1870 1 1/2d Rose-Red pl.3 imperforate imprimatur lettered AA
Great Britain » 1854-70 Perforated Line Engraved
Estimation
4'000 – 7'000 GBP
Date de vente
ven. 13 déc. 2019 at 09:00 (Europe/Zurich)
1870 1 1/2d Rose-Red pl.3 imperforate imprimatur lettered AA, showing plate number « 3 », part sheet inscription and part of the current number « 193 », unused, the unique plate number imprimatur in private hands (AL resides in the N.P.M, TA is still present on the on the registration sheet & TL resides in The Royal Collection of Her Majesty Queen Elizabeth II).
Please note that we are still working on adding images for the lots. If the lot you are interested in does not have images available yet, we invite you to check again in a few days.
If you still cannot find the images you are looking for in a few days, please send us a message. Important: don't forget to mention the lot number(s).
Thank you for your understanding.