Lot 40766 –
1860 5Kr Red, 22 examples including 2 on reverse tied by Pápa 3/5 cds on large registered ten-fold weight envelope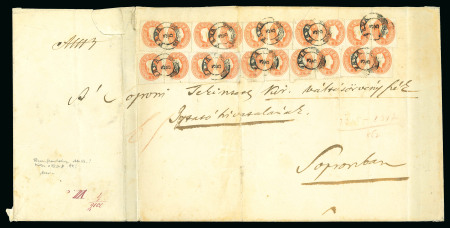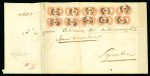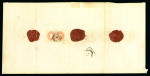 Lot 40766 –
1860 5Kr Red, 22 examples including 2 on reverse tied by Pápa 3/5 cds on large registered ten-fold weight envelope
Austria
Date de vente
mer. 11 déc. 2019 at 13:30 (Europe/Zurich)
1860 5Kr Red, 22 examples including 2 on reverse tied by Pápa 3/5 cds on large registered ten-fold weight envelope paying the 110Kr rate to Sopron, small faults inherent to such a large and spectacular franking, probably the highest multiple franking of this stamp used in Hungary.
5Kr rot Ausgabe 1861 (22, davon 2 rückseitig) auf grossformatiger zehnfachschwerer Briefhülle je paarweise entwertet Zweikreis PAPA 3.5. nach Sopron, 1 Marke fehlende Ecke ansonsten in für diesem grossformatigen Brief sehr schöne Erhaltung, spektakuläre Frankatur, vielleicht die höchste in Ungarn gebrauchte MEF dieser Marke.
Please note that we are still working on adding images for the lots. If the lot you are interested in does not have images available yet, we invite you to check again in a few days.
If you still cannot find the images you are looking for in a few days, please send us a message. Important: don't forget to mention the lot number(s).
Thank you for your understanding.