Lot 40742 –
6Kr braun + 1Kr orangegelb (3, inklusive 1 Paar) +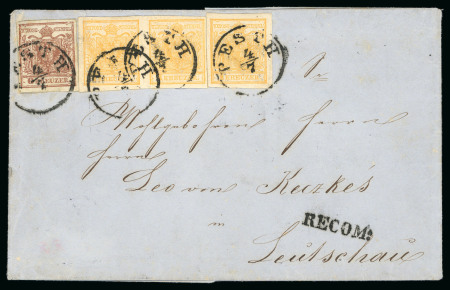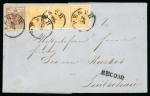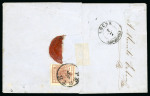 Lot 40742 –
6Kr braun + 1Kr orangegelb (3, inklusive 1 Paar) +
Austria
Date de vente
mer. 11 déc. 2019 at 13:30 (Europe/Zurich)
1850 6Kr Brown (2 incl. one on reverse) and 1Kr yellow (pair and single) tied by PESTH 4/7 cds on registered cover to Leutschnau, small corner crease on the 6Kr, an attractive and scarce franking, unrecorded by Ferchenbauer and possibly a unique franking combination from Hungary.
6Kr braun + 1Kr orangegelb (3, inklusive 1 Paar) + 6Kr rückseitig als einfachschwerer Reko-Faltbrief der 3. Zone entwertet Einkreis PESTH nach Leutschau, alle Werte voll – breitrandig (vorderseitige 6Kr mit kleiner Eckstauchung) ansonsten Prachterhaltung dieser seltenen Frankatur, im Ferchenbauer wird diese sehr seltene Frankatur nicht erwähnt.
Please note that we are still working on adding images for the lots. If the lot you are interested in does not have images available yet, we invite you to check again in a few days.
If you still cannot find the images you are looking for in a few days, please send us a message. Important: don't forget to mention the lot number(s).
Thank you for your understanding.