Lot 10270 –
1871 (Dec 14) Entire letter from Odessa to Galatz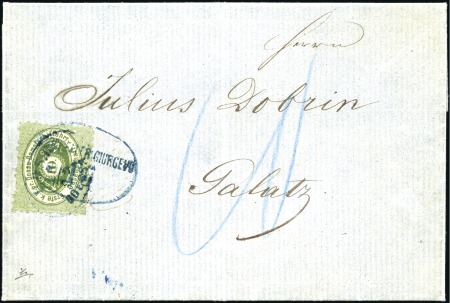 Lot 10270 –
1871 (Dec 14) Entire letter from Odessa to Galatz
Russia » Ship Mail » Ship Mail in the Black Sea
Date de vente
sam. 3 déc. 2016 at 10:00 (Europe/Zurich)
1871 (Dec 14) Entire letter from Odessa to Galatz franked by 1867 10kr green, Type I, tied by rare combination of D.D.S.G./ODESSA oval handstamp (Tcilinghirian fig. 834) and oval PROPELLER GIURGEVO/16 Ship's handstamp, both in blue, Galati arrival backstamp. Fine rarity.
Please note that we are still working on adding images for the lots. If the lot you are interested in does not have images available yet, we invite you to check again in a few days.
If you still cannot find the images you are looking for in a few days, please send us a message. Important: don't forget to mention the lot number(s).
Thank you for your understanding.