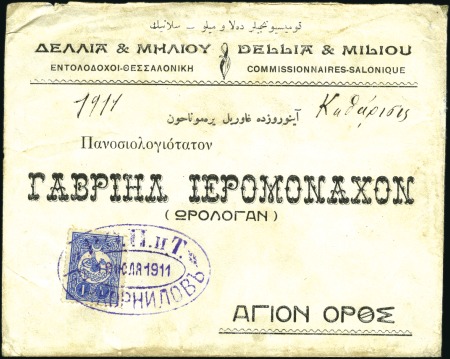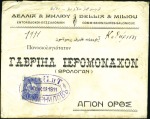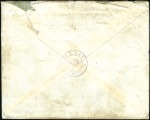 Russia » Ship Mail » Ship Mail in the Levant
Date de vente
sam. 3 déc. 2016 at 10:00 (Europe/Zurich)
1911 Printed trilingual envelope in Greek, Turkish and French addressed in Greek from the Aegean port of SALONICA to a monk at Mount Athos, franked Ottoman 1pi cancelled by large double-oval datestamp in violet of Russian ship translating: R.O.P.i.T. (RUSSIAN COMPANY FOR STEAM SHIPPING AND TRADE) STEAMSHIP KORNILOV 19 July 1911 Russian P.O. MOUNT ATHOS arrival backstamp dated the following day. Mount Athos (Greek « Holy Mountain ») located on the Aegean coast 130km SE of Salonica, sheltered an autonomous group of Christian monastic communities within the Ottoman Empire. After the Balkan war of 1912/13 both places were ceded to Greece. The « Kornilov » was one of the older vessels of the ROPiT fleet, a post-passenger ship of 2330 tons, built at Newcastle, England, in 1869. From her home port of Odessa she operated in the Levant and eastern Mediterranean. No other covers recorded.
Please note that we are still working on adding images for the lots. If the lot you are interested in does not have images available yet, we invite you to check again in a few days.
If you still cannot find the images you are looking for in a few days, please send us a message. Important: don't forget to mention the lot number(s).
Thank you for your understanding.