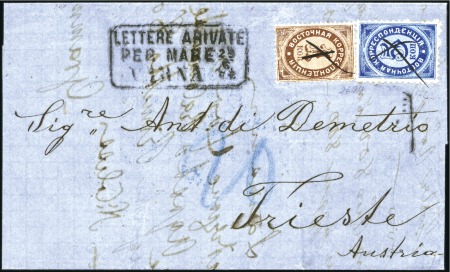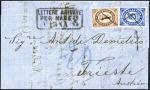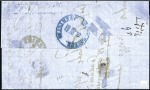 Russia » Ship Mail » Ship Mail in the Levant
Date de vente
sam. 3 déc. 2016 at 10:00 (Europe/Zurich)
1872 Folded letter from SAMSUN on the Ottoman coast of the Black Sea to Trieste franked Russian Levant 1868 5k + 1872 1k pen-cancelled on ship and delivered to Russian P.O. CONSTANTINOPLE, where Type 9 canceller dated 10 June 1872 applied in blue on reverse. Forwarded to Austrian P.O. at Bulgarian port of Varna where boxed datestamp struck in black: LETTERE ARRIVATE/PER MARE/VARNA. Trieste arrival backstamp and taxed on front in blue crayon '20' kreuzer. Small corner of reverse missing.
Please note that we are still working on adding images for the lots. If the lot you are interested in does not have images available yet, we invite you to check again in a few days.
If you still cannot find the images you are looking for in a few days, please send us a message. Important: don't forget to mention the lot number(s).
Thank you for your understanding.