Lot 10150 –
SWEDEN: 1864-1911, Collection of Russian stamps us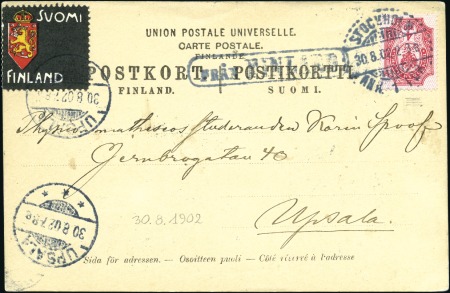 Lot 10150 –
SWEDEN: 1864-1911, Collection of Russian stamps us
Russia » Ship Mail » Ship Mail in the Baltic Sea
Date de vente
sam. 3 déc. 2016 at 10:00 (Europe/Zurich)
SWEDEN: 1864-1911, Collection of Russian stamps used with Swedish cancels on 5 sheets, noted Stockholm cancels on single Russia 1864-65 30k rose and green, tying 2k green on 1884 cover, 4 other covers incl. 2 with Finland vignettes and various stamps, all with maritime cancels, exceptional assembly.
Please note that we are still working on adding images for the lots. If the lot you are interested in does not have images available yet, we invite you to check again in a few days.
If you still cannot find the images you are looking for in a few days, please send us a message. Important: don't forget to mention the lot number(s).
Thank you for your understanding.