Lot 10140 –
1914 Picture postcard of submarine « Kaiman », sent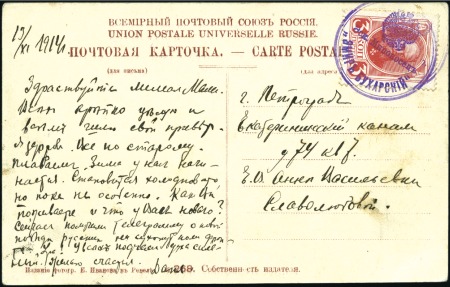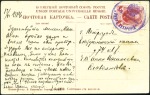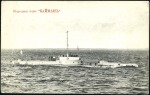 Lot 10140 –
1914 Picture postcard of submarine « Kaiman », sent
Russia » Ship Mail » Ship Mail in the Baltic Sea
Date de vente
sam. 3 déc. 2016 at 10:00 (Europe/Zurich)
1914 Picture postcard of submarine « Kaiman », sent to Petrograd with Romanov 3k tied by « SQUADRON DESTROXER « EMIR BUKHARSKII » cachet with Imperial Eagle, minor soiling, fine The « Emir Bukharskii » was a squadron destroyer (i.e. over 400 tons) built in 1904 and part of the Baltic Fleet flotilla of mine-layers. She was renamed « Yakob Sverdlov » by the Bolsheviks and formed part of their Volga flotilla.
Please note that we are still working on adding images for the lots. If the lot you are interested in does not have images available yet, we invite you to check again in a few days.
If you still cannot find the images you are looking for in a few days, please send us a message. Important: don't forget to mention the lot number(s).
Thank you for your understanding.