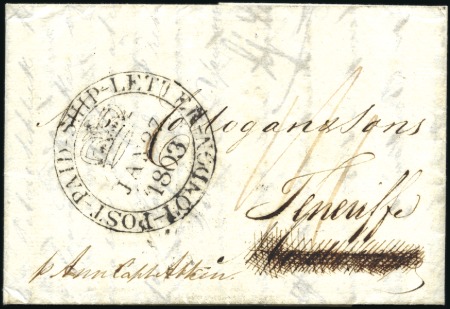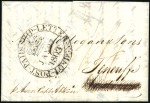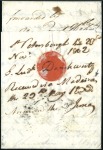 Russia » Ship Mail » Ship Mail in the Baltic Sea
Date de vente
sam. 3 déc. 2016 at 10:00 (Europe/Zurich)
Description
CANARY ISLANDS: 1802 Folded letter from English merchant in St Petersburg, addressed to « TENERIFFE, MADEIRA » 28 November. Sent as part of a bundle under single cover to London agents Magrath & Higgins, who deleted « Madeira » and forwarded via the LONDON SHIP LETTER OFFICE Jan 27 1803 for conveyance by East India Company's ship « ANN » (Capt. Atkin). Faint red 1/4 on front, denoting one shilling four pence paid. On reverse « Received via Madeira 29 May 1803 », 6 months after leaving St Petersburg. During the Napoleonic Wars, at the turn of the 18th & 19th centuries, English merchant ships were constantly harried by French privateers. East Indiamen and others sailed from Portsmouth in convoy under naval escort. Madeira was the regular port of call. Letters were sent in duplicate by different ships and/or at different times to maximise chance of delivery. The practice of sending several letters under a single cover was not permitted in Russia after 1817.
Please note that we are still working on adding images for the lots. If the lot you are interested in does not have images available yet, we invite you to check again in a few days.
If you still cannot find the images you are looking for in a few days, please send us a message. Important: don't forget to mention the lot number(s).
Thank you for your understanding.