Lot 10008 –
1851 ALASKA: Entire letter written in German by He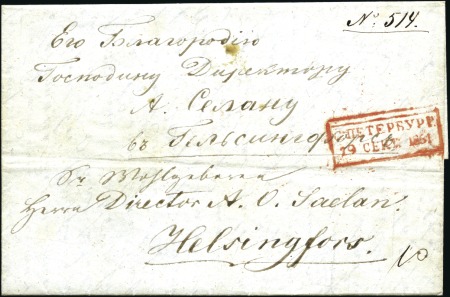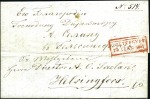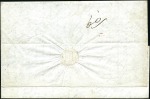 Lot 10008 –
1851 ALASKA: Entire letter written in German by He
Russia » Ship Mail » Ship Mail to and from America
Date de vente
sam. 3 déc. 2016 at 10:00 (Europe/Zurich)
1851 ALASKA: Entire letter written in German by Henrik Johan Holmberg (1818-64), a Finnish naturalist, geologist and ethnographer who departed for Alaska in 1850. Written from NEW ARCHANGEL later to be called SITKA. The Russia-America company established there had ships going to Kronstadt in the summer months and this letter was likely to have been carried by their ship 'Sitka'. The entire is addressed to Helsinki (Finland) and has a boxed St Petersburg transit datestamp on obverse in red. There are two rate markings: on the front '10' and on reverse '60'. The manuscript marking 'No 514' at top right could refer to a registry marking. The entire is addressed to Anders Olivier Saelan (1818-74) who was a pioneer of technical education in Finland. Alaska remained Russian territory until 1867 when it was sold to the USA. Covers before this date are exceedingly rare.
Please note that we are still working on adding images for the lots. If the lot you are interested in does not have images available yet, we invite you to check again in a few days.
If you still cannot find the images you are looking for in a few days, please send us a message. Important: don't forget to mention the lot number(s).
Thank you for your understanding.