Lot 10044 –
10k Arms imperforate, plate II, mint (hinge remain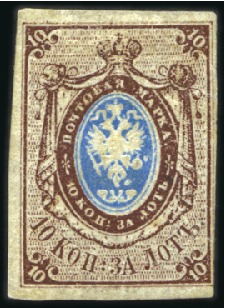 Lot 10044 –
10k Arms imperforate, plate II, mint (hinge remain
Russia » Russia Imperial 1857-58 First Issues Arms 10k brown & blue (St. 1)
Date de vente
mer. 19 sept. 2012 at 09:00 (Europe/Zurich)
10k Arms imperforate, plate II, mint (hinge remainder) with large part gum. There is possibly a tiny ink trace visible under UV-light, at right bottom margin just touching the frame line. One of the nicest of the so-called « mint original gum » examples in existence, copy of cert. Ferchenbauer included saying « …no ink trace visible… » Exhibition item and very rare. According to the most prominent expert on Russia it`s likely that there are no really mint original gum examples of the number 1 of Russia existing; other sources assume that 2 mint original gum examples still exist.
Please note that we are still working on adding images for the lots. If the lot you are interested in does not have images available yet, we invite you to check again in a few days.
If you still cannot find the images you are looking for in a few days, please send us a message. Important: don't forget to mention the lot number(s).
Thank you for your understanding.