Lot 10084 –
SHANGHAI: 1916 Dispatch document (Bulletin D'Expéd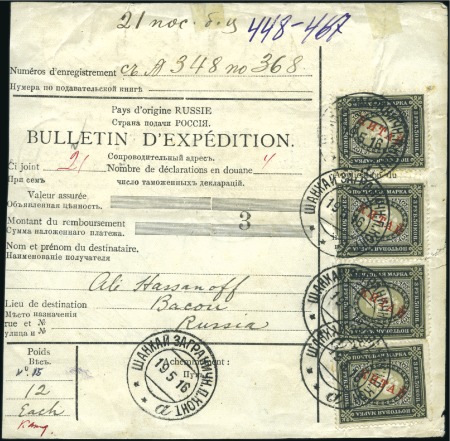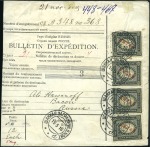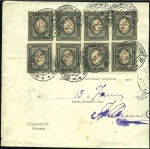 Lot 10084 –
SHANGHAI: 1916 Dispatch document (Bulletin D'Expéd
Russia » Russia Post in China
Date de vente
mer. 12 déc. 2012 at 10:00 (Europe/Zurich)
SHANGHAI: 1916 Dispatch document (Bulletin D'Expédition) for 21 packages sent to Baku, with charges paid by twelve « KITAI » 3R50k on front and back tied by Shanghai 19.5.16 cds (T&S type 8A), scarce.
上海:1916年,寄送文件(Bulletin D'Expédition),包括21件寄巴庫,貼12枚俄國客郵3.5盧布,銷上海圓日戳(1916.5.19)(T&S8A型),罕有。
Please note that we are still working on adding images for the lots. If the lot you are interested in does not have images available yet, we invite you to check again in a few days.
If you still cannot find the images you are looking for in a few days, please send us a message. Important: don't forget to mention the lot number(s).
Thank you for your understanding.