Lot 10075 –
SHANGHAI: 1909 Cover addressed in Farsi, Russian a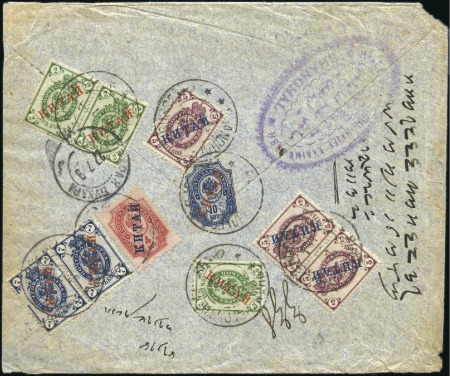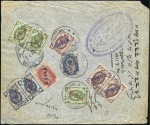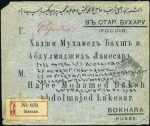 Lot 10075 –
SHANGHAI: 1909 Cover addressed in Farsi, Russian a
Russia » Russia Post in China
Date de vente
mer. 12 déc. 2012 at 10:00 (Europe/Zurich)
SHANGHAI: 1909 Cover addressed in Farsi, Russian and English registered to Bukhara (in modern day Uzbekistan), with « KITAI » 2k (3), 4k, 5k (3) and 7k (2) and 10k, paying six times the 7k internal rate plus reg'n fee, all tied by Shanghai 24.7.09 cds (T&S type 6B, Gregorian calendar), obverse with reg'n label in Cyrillic, small cover corner fault, a scarce rate and attractive multiple franking. Note: Type 6 cancels were only intended for use on mail to foreign countries.
上海:1909年,掛號封寄布哈拉(今烏茲別克)封,地址由法文,俄文及英文寫成,貼俄國客郵2戈比三枚,4戈比一枚,5戈比三枚及7戈比兩枚,10戈比一枚,為6倍內陸郵資及掛號費,全部銷上海日戳(1909.7.24)(T&S 6B型),另貼掛號標籤(Cyrillic字型),封角有損,為少見的郵資。
Please note that we are still working on adding images for the lots. If the lot you are interested in does not have images available yet, we invite you to check again in a few days.
If you still cannot find the images you are looking for in a few days, please send us a message. Important: don't forget to mention the lot number(s).
Thank you for your understanding.