Lot 10071 –
SHANGHAI: 1908 « KITAI » 3k (+3k) reply paid letter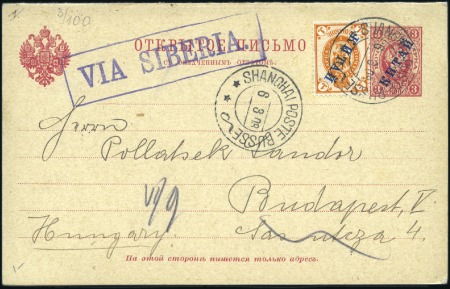 Lot 10071 –
SHANGHAI: 1908 « KITAI » 3k (+3k) reply paid letter
Russia » Russia Post in China
Date de vente
mer. 12 déc. 2012 at 10:00 (Europe/Zurich)
SHANGHAI: 1908 « KITAI » 3k (+3k) reply paid letter card to Budapest with « via Siberia » hs, uprated with « KITAI » 1k both cancelled by Shanghai 6.3.08 cds (T&S type 6B), Budapest bs, with unused half pre-cancelled simultaneously.
上海:1908年,俄国客邮3戈比含回卡(已付3戈比)寄布佩达斯,经西伯利亚寄送,另贴俄国客邮1戈比,皆销上海圆戳(1908..6)(T&S 6B型),亦见销布佩达斯日戳,为少见的同时销回卡纪录
Please note that we are still working on adding images for the lots. If the lot you are interested in does not have images available yet, we invite you to check again in a few days.
If you still cannot find the images you are looking for in a few days, please send us a message. Important: don't forget to mention the lot number(s).
Thank you for your understanding.