Lot 10045 –
PEKING: 1916 Picture postcard to Kashgar (SINKIANG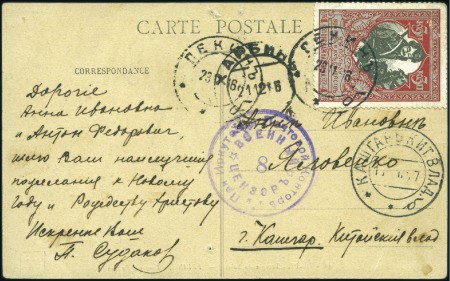 Lot 10045 –
PEKING: 1916 Picture postcard to Kashgar (SINKIANG
Russia » Russia Post in China
Date de vente
mer. 12 déc. 2012 at 10:00 (Europe/Zurich)
PEKING: 1916 Picture postcard to Kashgar (SINKIANG) with 3k War Charity stamp tied by Peking 23.11.16 (T&S type7B), sent via Harbin (Manchuria) and Irkutsk (Siberia) (where violet censor cachet was applied) with Kashgar 17.1.17 arrival cds, a very rare franking and route, showing re-entry into China Note: War Charity stamps were not on sale in Russian P.O.s in China, but were accepted when supplied by the customer. Note: Illustrated in « Russische Postcensuur 1914-1918 » pg.23 by A. Speeckaert.
北京:1916年图案明信片寄喀什(新疆),贴战争慈善票3戈比,销北京圆戳(1916.11.23)(T&S 7B),经哈尔滨(满州里)及伊尔库茨车(西伯利亚)(销紫色邮检戳),亦见销喀什到达戳(1917.1.17),极罕见的邮封及邮路 备注;中国的俄国客邮没有出售战争慈善票,但接受顾客自备
Please note that we are still working on adding images for the lots. If the lot you are interested in does not have images available yet, we invite you to check again in a few days.
If you still cannot find the images you are looking for in a few days, please send us a message. Important: don't forget to mention the lot number(s).
Thank you for your understanding.