Lot 10026 –
PEKING INCOMING: 1886 Cover sent registered from I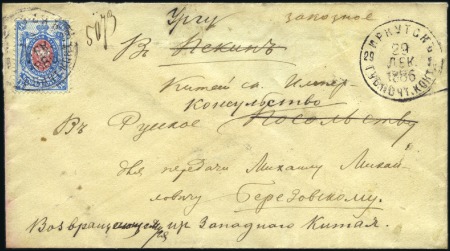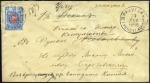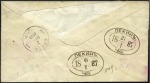 Lot 10026 –
PEKING INCOMING: 1886 Cover sent registered from I
Russia » Russia Post in China
Estimation
700 – 1'000 EUR
Date de vente
mer. 12 déc. 2012 at 10:00 (Europe/Zurich)
PEKING INCOMING: 1886 Cover sent registered from Irkutsk (Siberia) to the Russian Embassy at Peking with Arms 14k tied by Irkutsk 29.12.86 cds, sent via Kyakhta, with double oval Peking 21.1.87 ds (T&S type 3 variety day above month) on arrival, readdressed over 3 months later to the Russian Consulate at Urga (Mongolia) with the same Peking ds on despatch, missing portion of backflap (not affecting bs), scarce incoming mail.
北京进口:1886年挂号封由伊尔库茨克(西伯利亚)寄北京俄国大使馆,贴14戈比票销伊尔库茨克圆戳(1886.12.29),经恰克图,销北京双圈椭圆到达戳(1887.1.21)(T&S 3型变体,日子在月份上),经超过三个月的转寄,到达库伦俄国领事馆,销北京戳,部份封口纸缺少(不影响封背邮戳),少见的进口封
Please note that we are still working on adding images for the lots. If the lot you are interested in does not have images available yet, we invite you to check again in a few days.
If you still cannot find the images you are looking for in a few days, please send us a message. Important: don't forget to mention the lot number(s).
Thank you for your understanding.