Lot 10001 –
QUASI OFFICIAL MERCHANTS POST: 1871 Incoming 10k p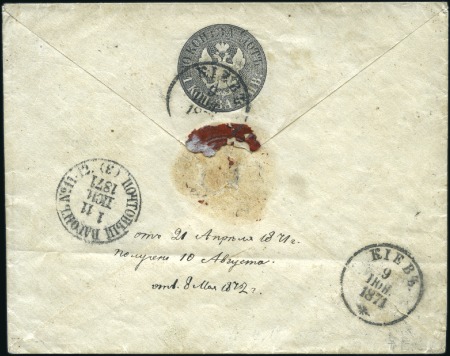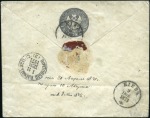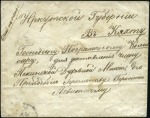 Lot 10001 –
QUASI OFFICIAL MERCHANTS POST: 1871 Incoming 10k p
Russia » Russia Post in China
Estimation
1'800 – 2'400 EUR
Date de vente
mer. 12 déc. 2012 at 10:00 (Europe/Zurich)
QUASI OFFICIAL MERCHANTS POST: 1871 Incoming 10k postal stationery envelope (1863 issue) sent to the Border Commissar at Kyakhta on the Siberia / Mongolia border for transmission to a member of the Russian Ecclesiastical Mission at Peking, placed on Postal Wagon No.11-12 (Kiev-Nizhnii-Novgorod), then taken by Merchants' Post across Mongolia to Peking, received 10.8.71 (ms note) Note: The Russian Merchants' (or Mongolian) Post was a private enterprise under the protection of the Russian Government initiated in 1865, about 10 years before the official Russian Post was established in Mongolia and China. A charge for its service was levied on incoming mail, payable by the recipient. From January 1872 such mail received the standard « Doplatit » (to pay) hs.
半官方商人邮政:1871年10戈比邮资进口封(1863年发行),寄至西伯利亚/蒙古边界的恰克图的边界委员转寄至北京的俄国教会成员,放于邮车第11-12卡,再交由商人邮局经蒙古至北京,手写1871.8.10到达,由BPB认证(2004年) 备注:1865年,俄国商人邮政为俄国政府辖下受保护的私人企业,长达十年,直至俄政府在蒙古及中国成立邮政局,其服务为收取进口邮件,由收件人支付费用,由1872年1月起,此类邮件皆盖 »Doplatit »(付款)戳作标准
Please note that we are still working on adding images for the lots. If the lot you are interested in does not have images available yet, we invite you to check again in a few days.
If you still cannot find the images you are looking for in a few days, please send us a message. Important: don't forget to mention the lot number(s).
Thank you for your understanding.