Lot 20093 –
HANKOW: 1916 Cover to Sweden with ordinary Russia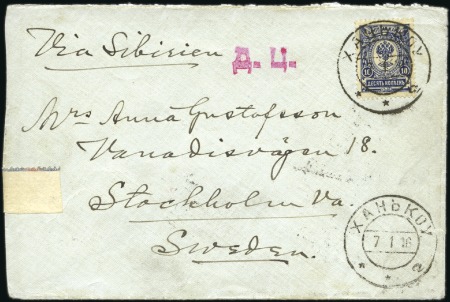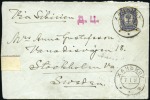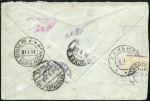 Lot 20093 –
HANKOW: 1916 Cover to Sweden with ordinary Russia
Russia » Russia Post in China
Date de vente
ven. 20 avr. 2012 at 13:00 (Europe/Zurich)
HANKOW: 1916 Cover to Sweden with ordinary Russia 10k, tied by Hankow 7.1.16 cds (T&S type 2A), forwarded next day with reverse showing Julian Calendar cds (T&S type 2A) and Gregorian Calendar cds (T&S type 3A), censor marks applied at Krasnoyarsk (Siberia) in red (Speekaert type 1, previously only recorded used in violet in 1914) and Petrograd (Speek. type 15), Stockholm bs. Very rare as ordinary Russian stamps were not sold at the Hankow P.O. but were accepted when supplied by the customer.
汉口:1916年,寄瑞典封,贴俄国10戈比销汉口圆戳(1916.1.7)(T&S 2A),背销儒略历日戳(T&S 2A)及公历圆戳(T&S 3A),亦见销红色Krasnoyarsk西伯利亚邮检戳(Speekaert 1型,只有1914年紫色纪录),另销彼得格勒(Speek 15型),斯德哥尔摩圆戳 极罕有,当时汉口邮局并没有出售俄国原版票,但接受顾客自行提供此票
Please note that we are still working on adding images for the lots. If the lot you are interested in does not have images available yet, we invite you to check again in a few days.
If you still cannot find the images you are looking for in a few days, please send us a message. Important: don't forget to mention the lot number(s).
Thank you for your understanding.