Lot 20081 –
CHEFOO: 1907 « KITAI » 4k postcard sent from USS « Ma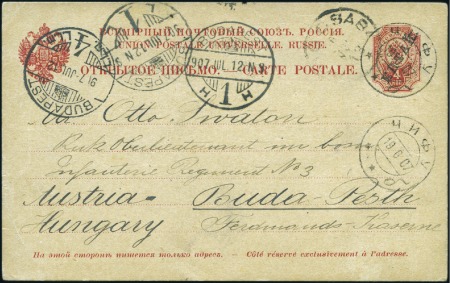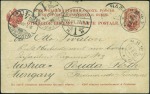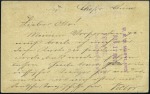 Lot 20081 –
CHEFOO: 1907 « KITAI » 4k postcard sent from USS « Ma
Russia » Russia Post in China
Date de vente
ven. 20 avr. 2012 at 13:00 (Europe/Zurich)
CHEFOO: 1907 « KITAI » 4k postcard sent from USS « Maryland » by a Sergeant in the US Marine Corps to Budapest, cancelled by Chefoo 19.6.07 cds (T&S type 3B), with violet « U.S.S. MARYLAND » s/l hs on reverse, Budapest arrival, great naval interest. Note: The armoured crusier « Maryland » was commissioned in 1905. In the Autumn of 1906 she joined the American Asiatic Station, remaining there until October 1907. Picture of ship included.
烟台:1907年,俄国客邮4戈比明信片寄布达佩斯,由美国 »Maryland »海军战舰上的美国海军陆战队中士寄出,销烟台俄国客邮戳(1907.6.19)(T&S 3B),销紫色 »U.S.S. MARYLAND »戳,布达佩斯日戳,俱趣味的海军封 备注: »Maryland »号于1905年被委任,于1906年秋天进入美亚站,直至1907年10月,明信片背面为此号图片
Please note that we are still working on adding images for the lots. If the lot you are interested in does not have images available yet, we invite you to check again in a few days.
If you still cannot find the images you are looking for in a few days, please send us a message. Important: don't forget to mention the lot number(s).
Thank you for your understanding.