Lot 20069 –
SHANGHAI: 1917 Cover sent « Advice of Receipt » regi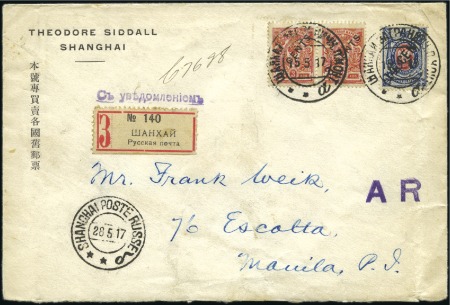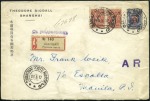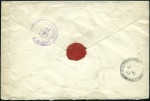 Lot 20069 –
SHANGHAI: 1917 Cover sent « Advice of Receipt » regi
Russia » Russia Post in China
Estimation
2'000 – 3'000 EUR
Date de vente
ven. 20 avr. 2012 at 13:00 (Europe/Zurich)
SHANGHAI: 1917 Cover sent « Advice of Receipt » registered to the Philippine Islands with Russia Chinese surcharged 3c on 3k pair and 14c on 14k tied by Shanghai 15.5.17 cds (T&S type 8A, Julian calendar) with another cds adjacent (T&S type 6B, Gregorian calendar), with reg'd label below rare in violet « With Advice » hs in Cyrillic plus « AR » hs, rare rate markings and destination Note: Owing to the fall in the Rouble after the Russian Revolution, payment for postage at the Russian P.O.s in China had to be made exclusively in Chinese currency, hence the surcharge in cents and dollars.
上海:1917年挂号封寄菲律宾贴俄国3分加盖3戈比双联及14分加盖14戈比票销上海圆戳(1917.5.15)(T&S 8A型,儒略历)及(T&S 6B公历)戳,另贴罕有紫色挂号标签及 »With Advice »(Cyrillic),及 »AR »双挂号戳,罕有的戳记及目的地 备注:在俄国革命后,卢布下跌,故俄国在华客邮需要改值,加盖中国的分及元
Please note that we are still working on adding images for the lots. If the lot you are interested in does not have images available yet, we invite you to check again in a few days.
If you still cannot find the images you are looking for in a few days, please send us a message. Important: don't forget to mention the lot number(s).
Thank you for your understanding.