Lot 20042 –
PEKING: 1918 « KITAI » 4k postcard from a German nat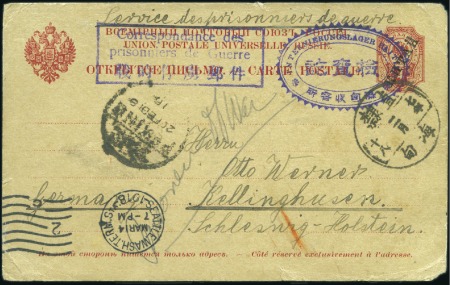 Lot 20042 –
PEKING: 1918 « KITAI » 4k postcard from a German nat
Russia » Russia Post in China
Estimation
800 – 1'200 EUR
Date de vente
ven. 20 avr. 2012 at 13:00 (Europe/Zurich)
PEKING: 1918 « KITAI » 4k postcard from a German national interned at Haiten, Peking to Germany, cancelled by native Peking cds and violet toothed oval « Internment Camp Haitien » cachet in German and Chinese, plus violet boxed « Correspondence des prisonniers de Guerre » cachet in French and Chinese, Seattle (USA) transit Possibly unique used of Russian stationary by German and Austrian national interned by order of Chinese Government Note: In March 1917 the Chinese Government issued instructions for the internment of German and Austrian nationals.
北京:1918年,俄国客邮4戈比明信片由北京海甸寄德国,销北京圆戳及海甸收容所法文及英文的紫色齿边椭圆戳,另销法文及英文的长方形 »战时俘虏邮件 »戳,亦见销西雅图中转戳 可能是惟一的展示德国及奥地利国民被中国政拘留的俄国邮品 备注:1917年3月,中国政府发出拘禁德国及奥地利国民的命令
Please note that we are still working on adding images for the lots. If the lot you are interested in does not have images available yet, we invite you to check again in a few days.
If you still cannot find the images you are looking for in a few days, please send us a message. Important: don't forget to mention the lot number(s).
Thank you for your understanding.