Lot 20038 –
PEKING: 1921 Native cover registered to Chuguchak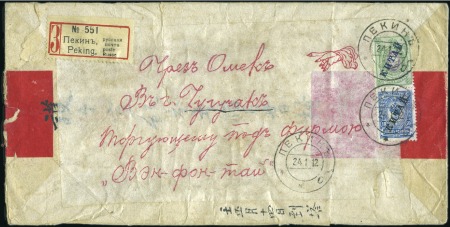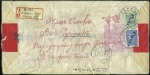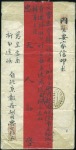 Lot 20038 –
PEKING: 1921 Native cover registered to Chuguchak
Russia » Russia Post in China
Date de vente
ven. 20 avr. 2012 at 13:00 (Europe/Zurich)
PEKING: 1921 Native cover registered to Chuguchak (SINKIANG) with « KITAI » 25k and 10k paying four times the 7k internal letter rate plus reg'n fee, tied by Peking 24.1.12 cds (T&S type 7B), with reg'd label in Cyrillic and French adjacent, Omsk (Siberia) and Chuguchak cds, scarce registered cover. Note: Chinese text on back indicated that the letter originated from the Information Bureau at Peking and was sent to a local firm with a request that this « important family business » be redirected via the « Russian security (registered) post » to Ta-Cheng (Chuguchak) without delay, and the contents then to Minister in the Atlai Mountains region.
北京:1921年挂号封寄塔城(新疆),贴俄国客邮25及10戈比,销北京圆戳(1912.1.24))T&S 7B),贴挂号标签(Cyrillic及法文),见销西伯利亚及塔城圆戳,少见的挂号封 备注:封上的中文内容指出,此为重要的家信,经本地民信局至俄国挂号邮局至塔城,不可延迟,寄给阿尔泰山办事大臣
Please note that we are still working on adding images for the lots. If the lot you are interested in does not have images available yet, we invite you to check again in a few days.
If you still cannot find the images you are looking for in a few days, please send us a message. Important: don't forget to mention the lot number(s).
Thank you for your understanding.