Lot 20037 –
PEKING: Cover registered to the USA, franked on th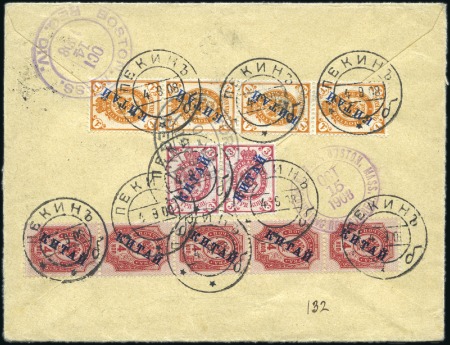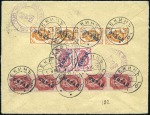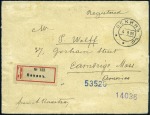 Lot 20037 –
PEKING: Cover registered to the USA, franked on th
Russia » Russia Post in China
Date de vente
ven. 20 avr. 2012 at 13:00 (Europe/Zurich)
PEKING: Cover registered to the USA, franked on the reverse with « KITAI » 4k (in vert. strip of five), 1k (in vert. strip of four) and 3k tied by Peking 4.9.08 cds (T&S type 7b), obverse with reg'd label in Cyrillic, Boston and Cambridge bs, a very fine and attractive multiple franking.
北京:挂号封寄美国,背贴俄国客邮4戈比五枚,1戈比四枚,及3 戈比销北京圆戳(1908.9.4)(T&S 7B型),另贴挂号标签,另销波士惴及剑桥日戳,上品
Please note that we are still working on adding images for the lots. If the lot you are interested in does not have images available yet, we invite you to check again in a few days.
If you still cannot find the images you are looking for in a few days, please send us a message. Important: don't forget to mention the lot number(s).
Thank you for your understanding.