Lot 20035 –
PEKING: 1906 Picture postcard to Germany with ordi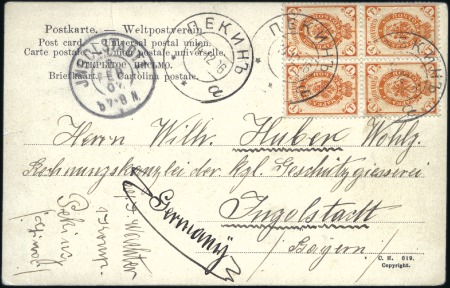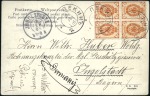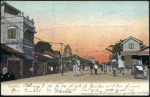 Lot 20035 –
PEKING: 1906 Picture postcard to Germany with ordi
Russia » Russia Post in China
Date de vente
ven. 20 avr. 2012 at 13:00 (Europe/Zurich)
PEKING: 1906 Picture postcard to Germany with ordinary Russian 1k in block of four, tied by Peking 14.12.06 (although datelined « 15 XII 1906 ») cds (T&S type 7A), Jngolstatt arrival, unusual franking. Note: Ordinary Russian stamps were not sold in the Russian P.O.s in Peking but were accepted if supplied by the customer.
北京:1906年彩图明信片寄德国,贴俄国1戈比四方联票,销北京圆戳(1906.12.14)(日期错误,应为15)(T&S7A型),亦见销到达戳,少见 备注:北京俄国客邮局并未出售俄国原版票,但可接受顾客自行提供的邮票
Please note that we are still working on adding images for the lots. If the lot you are interested in does not have images available yet, we invite you to check again in a few days.
If you still cannot find the images you are looking for in a few days, please send us a message. Important: don't forget to mention the lot number(s).
Thank you for your understanding.