Lot 10049 –
India. 1862 (June 21). Entire letter from Calcutta to Spain, franked by 1855 8a and 1856-64 1/2a, 1a & 4a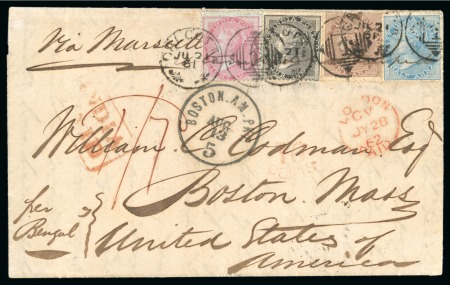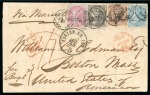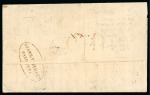 Lot 10049 –
India. 1862 (June 21). Entire letter from Calcutta to Spain, franked by 1855 8a and 1856-64 1/2a, 1a & 4a
United States » Incoming Mail
Auction date
Wed 13 Oct 2021 at 15:00 (Europe/Zurich)
India. 1862 (June 21). Entire letter from Calcutta to Boston, with framed red "INDIA/PAID" hs and franked by 1855 8a and 1856-64 1/2a, 1a & 4a, tied by duplex hs on dispatch (1861 year in error), paying the 8 annas carriage to France and 5 1/2a from U.K. to the U.S., equal to "1/7" pence notation in red and "London/Paid" cds, red "16/CENTS" U.S. credit marking, black Boston 5c due cds on arrival, carried by the Peninsular & oriental "Bengal" to Suez, involving the Allan Line "Jura" from Londonderry to Quebec; an attractive and scarce four-colour franking.
Please note that we are still working on adding images for the lots. If the lot you are interested in does not have images available yet, we invite you to check again in a few days.
If you still cannot find the images you are looking for in a few days, please send us a message. Important: don't forget to mention the lot number(s).
Thank you for your understanding.