Lot 10048 –
Greece. 1858 (Nov 22). Cover to New York, sent unpaid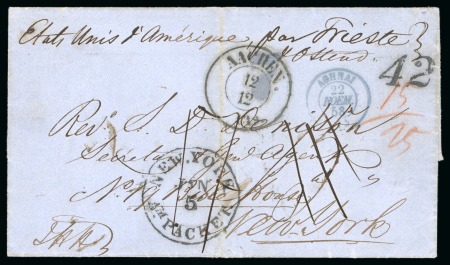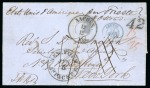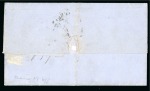 Lot 10048 –
Greece. 1858 (Nov 22). Cover to New York, sent unpaid
United States » Incoming Mail
Auction date
Wed 13 Oct 2021 at 15:00 (Europe/Zurich)
Greece. 1858 (Nov 22). Cover to New York, sent unpaid and most likely carried from Piraeus to Syros to be transferred to Lloyd steamer proceeding to Trieste with "7" Sgr hs before entering the GAPU area with red crayon "48/25" denoting 15 Nkr for Lloyd carriage and 25c for international service to the USA, then on to Aachen with "AACHEN / Cts" double circle ds (unrecorded in VdL without numeral), ms "17" for 12c rate from Greece and 5c American internal rate, carried over Ostende to Southampton and placed aboard Havre Line "Fulton" with New York arrival and "42" cents postage due hs; vertical fold reinforced inside; one of very few Greece pre-philatelic transatlantic mail covers (nothing similar in the Richard Winter collection), and probably a unique usage of the Aachen Exchange P.O. datestamp from Greece.
Please note that we are still working on adding images for the lots. If the lot you are interested in does not have images available yet, we invite you to check again in a few days.
If you still cannot find the images you are looking for in a few days, please send us a message. Important: don't forget to mention the lot number(s).
Thank you for your understanding.