Lot 10041 –
German States – Hanover. 1858 (March 6). Cover front from Emden to Baltimore, with marginal 1856-57 1/15th or 2sgr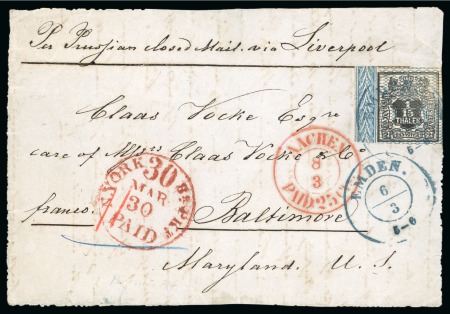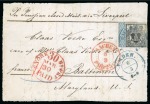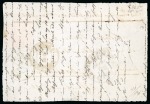 Lot 10041 –
German States – Hanover. 1858 (March 6). Cover front from Emden to Baltimore, with marginal 1856-57 1/15th or 2sgr
United States » Incoming Mail
Auction date
Wed 13 Oct 2021 at 15:00 (Europe/Zurich)
German States – Hanover. 1858 (March 6). Cover front from Emden to Baltimore, paying the internal rate with 1856-57 1/15th or 2sgr featuring a spectacular left sheet-margin example (tiny tear at top very slightly touching the design), tied by blue cds on departure, repeated adjacent, 25c credited to the U.S. with Aachen red cds, "11" red crayon denoting payment of 11 sgr, carried by the Inman "City of Baltimore", and red "N. York/Br. Pkt/30/PAID" marking; a rare combination franking between cash and partial payment with a stamp.
Note: According to the 1852 Prussian-U.S. Postal Convention, the single rate was 30 cents per 1/2oz, including 5c for the U.S., 5c for Prussia and 20c comprising transit fees between both countries.
Please note that we are still working on adding images for the lots. If the lot you are interested in does not have images available yet, we invite you to check again in a few days.
If you still cannot find the images you are looking for in a few days, please send us a message. Important: don't forget to mention the lot number(s).
Thank you for your understanding.