Lot 10035 –
Denmark. 1868 Envelope from Copenhagen to Millerton, California, franked by 1864-70 2s, 3s and 16s, perf. 13×12 1/2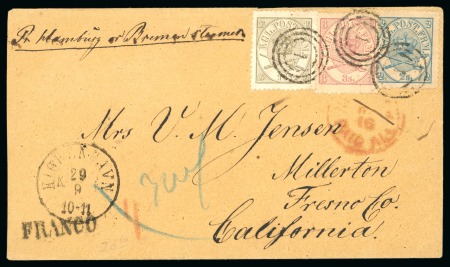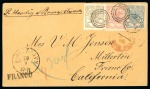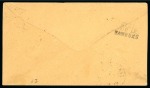 Lot 10035 –
Denmark. 1868 Envelope from Copenhagen to Millerton, California, franked by 1864-70 2s, 3s and 16s, perf. 13×12 1/2
United States » Incoming Mail
Auction date
Wed 13 Oct 2021 at 15:00 (Europe/Zurich)
Denmark. 1868 (Sep 29). Single weight envelope from Copenhagen to Millerton, California, franked by 1864-70 2s (short perf. at top), 3s and 16s, perf. 13×12 1/2, tied by "2" target cancels on departure, with matching cds at left, red crayon "4" amended to "3wf" in blue for inland rate, red New York cds below, bs of Hamburg, where it was placed on board the Hapag "Germania"; twenty-five covers with this franking are known, regardless of the destination.
:
Facit 11, 12, 15 – Michel 11A, 12A, 15A
Please note that we are still working on adding images for the lots. If the lot you are interested in does not have images available yet, we invite you to check again in a few days.
If you still cannot find the images you are looking for in a few days, please send us a message. Important: don't forget to mention the lot number(s).
Thank you for your understanding.