Lot 10022 –
1864 (May 12). Entire letter from San Francisco To Reims (France)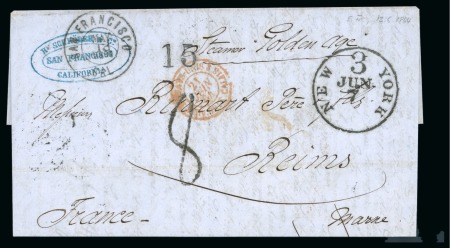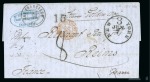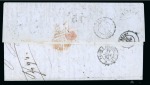 Lot 10022 –
1864 (May 12). Entire letter from San Francisco To Reims (France)
United States » Outgoing Mail
Auction date
Wed 13 Oct 2021 at 15:00 (Europe/Zurich)
1864 (May 12). Entire letter from San Francisco to Reims, France, dispatch cds at top left, "15" (3c inland fee, 6c ship carriage, 2c Br. transit, 4c French portion) unpaid letter rate to France equivalent to 80 French centimes, placed on board the "Golden Age" to Panama, then embarked on a U.S. Mail Steamship Co. packet to New York, with corresponding cds at right, carried from Boston to Queenstown by Cunard SS "Asia", red French entry and "8" decimes postage due, very fine.
Please note that we are still working on adding images for the lots. If the lot you are interested in does not have images available yet, we invite you to check again in a few days.
If you still cannot find the images you are looking for in a few days, please send us a message. Important: don't forget to mention the lot number(s).
Thank you for your understanding.