Lot 10019 –
1859 (Nov 22). Stampless cover from Boston to Laurvig (Norway)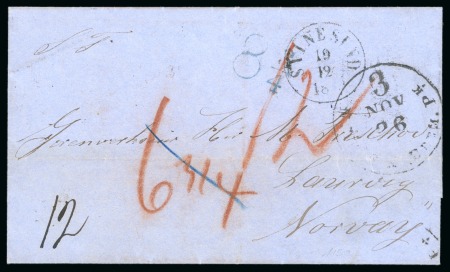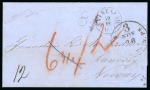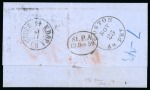 Lot 10019 –
1859 (Nov 22). Stampless cover from Boston to Laurvig (Norway)
United States » Outgoing Mail
Auction date
Wed 13 Oct 2021 at 15:00 (Europe/Zurich)
1859 (Nov 22). Stampless cover from Boston to Laurvig, Norway, initially processed for American conveyance (Boston Am. Pkt. backstamp), but routed to New York where it was struck with "NEW YORK/BREM. PK./3" debiting 3c for inland fees, carried by N.G.L. "New York", blue "8 3/4" hs (incl. 6 3/4sgr debited to Bremen and 2sgr to Hamburg, in red crayon) which was applied in Hamburg, Svinesund transit on front, Hamburg cds and blue crayon "7-43" skilling (7 debited for Swedish transit) on back; a rare destination.
Please note that we are still working on adding images for the lots. If the lot you are interested in does not have images available yet, we invite you to check again in a few days.
If you still cannot find the images you are looking for in a few days, please send us a message. Important: don't forget to mention the lot number(s).
Thank you for your understanding.