Lot 10016 –
1858, Sept 28. Envelope from Cleveland to Liverpool, franked by 1869 12c black, plate III, pair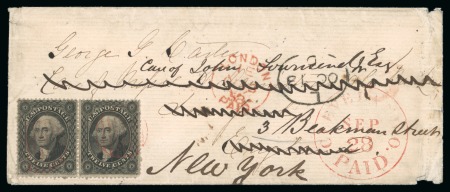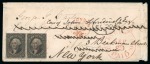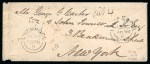 Lot 10016 –
1858, Sept 28. Envelope from Cleveland to Liverpool, franked by 1869 12c black, plate III, pair
United States » Outgoing Mail
Auction date
Wed 13 Oct 2021 at 15:00 (Europe/Zurich)
1858 (Sep 28). Envelope from Cleveland to Liverpool, redirected to New York, franked by 1869 12c black, plate III, pair with lower right corner perf. missing, tied by red barred circle hs, with red dispatch cds at right, London transits on front, Liverpool ds on reverse, prepaying the single rate according to the 1848 US-UK Convention, carried from New York to Liverpool by the Cunard SS "Persia", re-embarked on the same ship on its voyage back to New York; a rare double-crossing of the Atlantic mail.
Please note that we are still working on adding images for the lots. If the lot you are interested in does not have images available yet, we invite you to check again in a few days.
If you still cannot find the images you are looking for in a few days, please send us a message. Important: don't forget to mention the lot number(s).
Thank you for your understanding.