Lot 10009 –
France. 1855 (May 31). Lettersheet from Le Havre to Vera Cruz, Mexico, with 1854 80c strip of three, 40c and 20c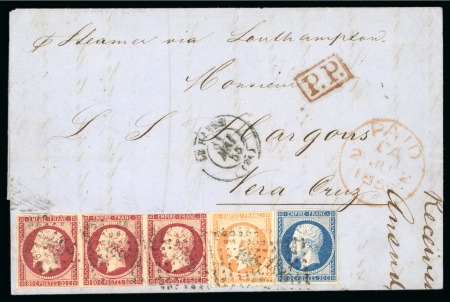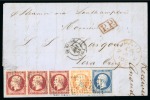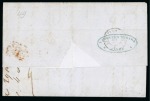 Lot 10009 –
France. 1855 (May 31). Lettersheet from Le Havre to Vera Cruz, Mexico, with 1854 80c strip of three, 40c and 20c
Mexico » Incoming Mail
Auction date
Wed 13 Oct 2021 at 15:00 (Europe/Zurich)
France. 1855 (May 31). Lettersheet from Le Havre to Vera Cruz, Mexico, with 1854 80c deep carmine strip of three (just cut into at top), 40c orange and 20c type I deep blue (both four-margined), overpaying the 2f80 rate, tied by "1495" diamonds, carried via Paris and London to Southampton and put aboard the RMSPC SS "Tay" to St. Thomas, then transferred to RMSPC SS "Wey" to Vera Cruz (no arrival ds); attractive franking and scarce 80c strip of three on cover.
Please note that we are still working on adding images for the lots. If the lot you are interested in does not have images available yet, we invite you to check again in a few days.
If you still cannot find the images you are looking for in a few days, please send us a message. Important: don't forget to mention the lot number(s).
Thank you for your understanding.