Lot 10006 –
1870 (Apr 27). Envelope from Puebla to France with 1868 50c Hidalgo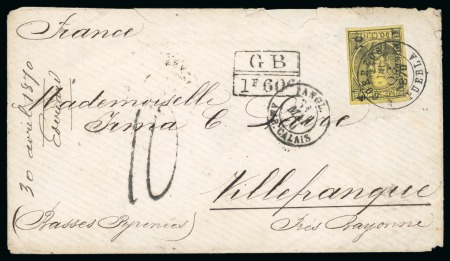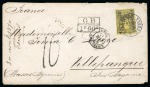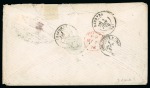 Lot 10006 –
1870 (Apr 27). Envelope from Puebla to France with 1868 50c Hidalgo
Mexico
Auction date
Wed 13 Oct 2021 at 15:00 (Europe/Zurich)
1870 (Apr 27). Envelope from Puebla to France with 1868 50c Hidalgo with district and consignment "4 60" overprints, paying the internal rate, tied by Puebla double circle ds, carried from Vera Cruz by RMSPC SS "Tyne" to St. Thomas and onward aboard RMSPC SS "Seine" to Plymouth, thence via London with Anglo-French Treaty 1d60c accountancy hs, Calais and Bordeaux transits with "10" decime charge, arriving in Bayonne, stamp with faults and roughly opened at top.
Please note that we are still working on adding images for the lots. If the lot you are interested in does not have images available yet, we invite you to check again in a few days.
If you still cannot find the images you are looking for in a few days, please send us a message. Important: don't forget to mention the lot number(s).
Thank you for your understanding.