Lot 10001 –
1869 (Feb 26). Stampless entire letter from Montreal to Spain via Portland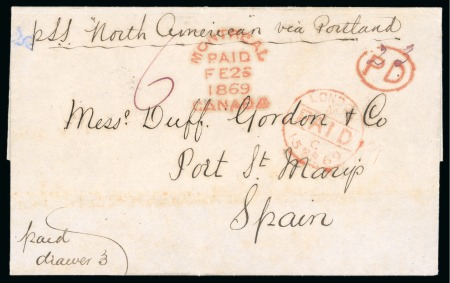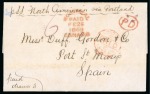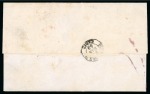 Lot 10001 –
1869 (Feb 26). Stampless entire letter from Montreal to Spain via Portland
Canada » Outgoing Mail
Auction date
Wed 13 Oct 2021 at 15:00 (Europe/Zurich)
1869 (Feb 26). Stampless entire letter from Montreal to Spain endorsed "p S.S. North American" via Portland", showing red unframed tombstone cancel on dispatch, prepaying the 23 cents rate in ms at top right (12 1/2c rate to England by Canadian steamer and 10 1/2c carriage to Spain), red London cds and "6" pence in purple ink at London, embarked in Portland on the Allan Line "North America", backstamped on receipt; a very scarce destination, particularly sent via Portland.
Please note that we are still working on adding images for the lots. If the lot you are interested in does not have images available yet, we invite you to check again in a few days.
If you still cannot find the images you are looking for in a few days, please send us a message. Important: don't forget to mention the lot number(s).
Thank you for your understanding.