Lot 40141 –
1885 Cover to France bearing Type Sage 25c in a very rare combination with Large Dragons Dragons on thick paper, rough perf. 3ca
Lot 40141 –
1885 Cover to France bearing Type Sage 25c in a very rare combination with Large Dragons Dragons on thick paper, rough perf. 3ca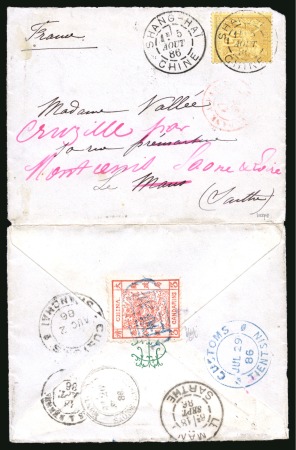 Lot 40141 –
1885 Cover to France bearing Type Sage 25c in a very rare combination with Large Dragons Dragons on thick paper, rough perf. 3ca
China » Foreign Post Offices » French Post Offices
Price realised
20'000 EUR
Estimate
4'000 – 6'000 EUR
Auction date
Wed 16 Jun 2021 at 10:00 (Europe/Zurich)
1885 (July 29) Fully prepaid cover (opened for display) to Le Mans, redirected to Mont Cenis, franked on reverse on dispatch with China 1885 Large Dragons Dragons on thick paper, 3ca rough perf. (Chan 11), tied by blue Peking seal cancel, with matching "I.G. OF CUSTOMS/PEKING" cds alongside, together with "CUSTOMS/SHANGHAI" (2.8) cds and French transits on reverse, transferred to the French P.O. for external transmission and franked with Type Sage 25c bister and yellow, tied by scarce "SHANG-HAÏ/CHINE" Daguin duplex, repeated adjacent, faint strike of red French entry, a very rare China first-issue combination cover; signed Holcombe.
Provenance: Alex Droar, "Ming" collection.
Please note that we are still working on adding images for the lots. If the lot you are interested in does not have images available yet, we invite you to check again in a few days.
If you still cannot find the images you are looking for in a few days, please send us a message. Important: don't forget to mention the lot number(s).
Thank you for your understanding.